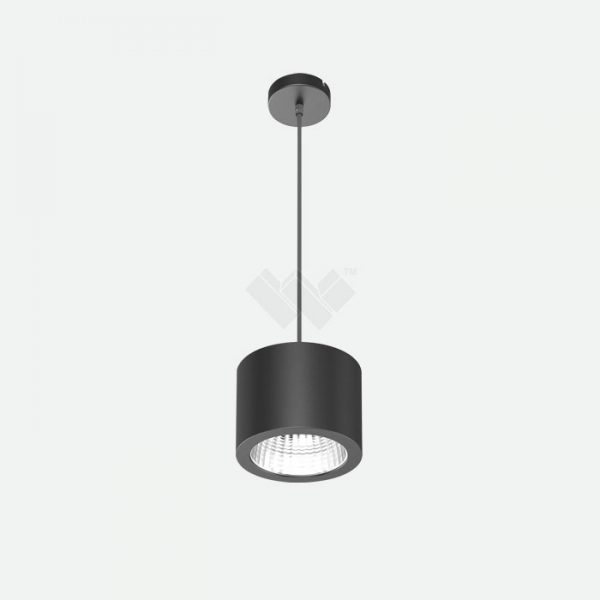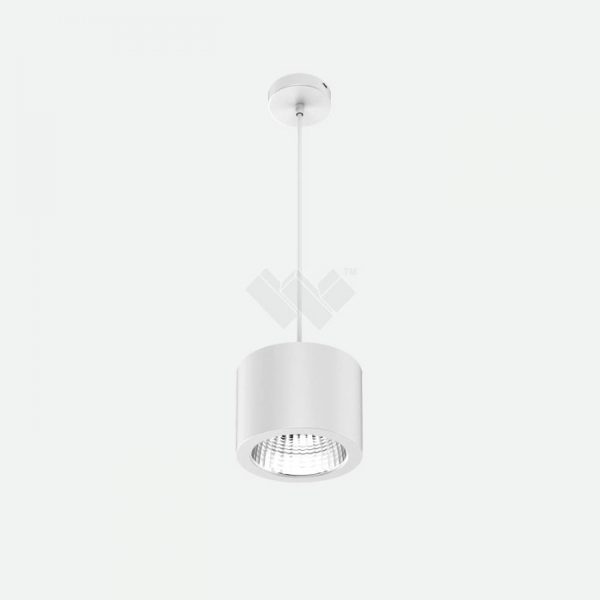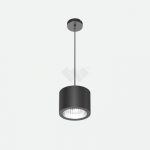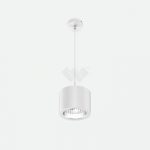 GRACE
Grace series led pendant light adopts high quality Brand COB LED as a light source.
Traditional deep reflector (UGR<19) that provides perfect combination of high lighting efficiency.
Comfortable lighting and adopts simple and elegant design.
Excellent thermal management system is achieved be integrated reflector and superior aluminum material.
Grace series surface mounted and pendant lights are available in 3 different wattages and sizes
Dimmable available with 0-10V, Dali and Triac
Available customized color finish and color temperature upon the request.
Description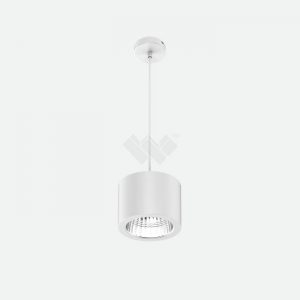 WL221058 13W Ø143
| Product Code | LED | Power | Lumen | Input | CRI | Finish | Beam_Angle | CCT | IP_Rating | PF | Dimension | Suspension |
| --- | --- | --- | --- | --- | --- | --- | --- | --- | --- | --- | --- | --- |
| WL221058.02.60.30 | COB | 13W | 1460lm | 220~240VAC | ≥90 | White | 60° | 3000K | IP54 | >0.90 | Ø143x112mm | 1200mm |
| WL221058.02.90.30 | COB | 13W | 1460lm | 220~240VAC | ≥90 | White | 90° | 3000K | IP54 | >0.90 | Ø143x112mm | 1200mm |
| WL221058.04.60.30 | COB | 13W | 1460lm | 220~240VAC | ≥90 | Black | 60° | 3000K | IP54 | >0.90 | Ø143x112mm | 1200mm |
| WL221058.04.90.30 | COB | 13W | 1460lm | 220~240VAC | ≥90 | Black | 90° | 3000K | IP54 | >0.90 | Ø143x112mm | 1200mm |
| WL221058.02.60.40 | COB | 13W | 1460lm | 220~240VAC | ≥90 | White | 60° | 4000K | IP54 | >0.90 | Ø143x112mm | 1200mm |
| WL221058.02.90.40 | COB | 13W | 1460lm | 220~240VAC | ≥90 | White | 90° | 4000K | IP54 | >0.90 | Ø143x112mm | 1200mm |
| WL221058.04.60.40 | COB | 13W | 1460lm | 220~240VAC | ≥90 | Black | 60° | 4000K | IP54 | >0.90 | Ø143x112mm | 1200mm |
| WL221058.04.90.40 | COB | 13W | 1460lm | 220~240VAC | ≥90 | Black | 90° | 4000K | IP54 | >0.90 | Ø143x112mm | 1200mm |
| WL221058.02.60.50 | COB | 13W | 1460lm | 220~240VAC | ≥90 | White | 60° | 5000K | IP54 | >0.90 | Ø143x112mm | 1200mm |
| WL221058.02.90.50 | COB | 13W | 1460lm | 220~240VAC | ≥90 | White | 90° | 5000K | IP54 | >0.90 | Ø143x112mm | 1200mm |
| WL221058.04.60.50 | COB | 13W | 1460lm | 220~240VAC | ≥90 | Black | 60° | 5000K | IP54 | >0.90 | Ø143x112mm | 1200mm |
| WL221058.04.90.50 | COB | 13W | 1460lm | 220~240VAC | ≥90 | Black | 90° | 5000K | IP54 | >0.90 | Ø143x112mm | 1200mm |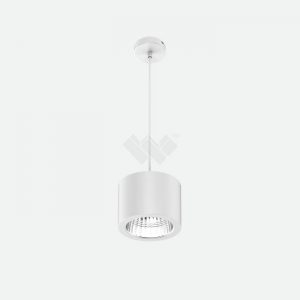 WL221059 18W Ø170
| Product Code | LED | Power | Lumen | Input | CRI | Finish | Beam_Angle | CCT | IP_Rating | PF | Dimension | Suspension |
| --- | --- | --- | --- | --- | --- | --- | --- | --- | --- | --- | --- | --- |
| WL221059.02.60.30 | COB | 18W | 1890lm | 220~240VAC | ≥90 | White | 60° | 3000K | IP54 | >0.90 | Ø170x123mm | 1200mm |
| WL221059.02.90.30 | COB | 18W | 1890lm | 220~240VAC | ≥90 | White | 90° | 3000K | IP54 | >0.90 | Ø170x123mm | 1200mm |
| WL221059.04.60.30 | COB | 18W | 1890lm | 220~240VAC | ≥90 | Black | 60° | 3000K | IP54 | >0.90 | Ø170x123mm | 1200mm |
| WL221059.04.90.30 | COB | 18W | 1890lm | 220~240VAC | ≥90 | Black | 90° | 3000K | IP54 | >0.90 | Ø170x123mm | 1200mm |
| WL221059.02.60.40 | COB | 18W | 1890lm | 220~240VAC | ≥90 | White | 60° | 4000K | IP54 | >0.90 | Ø170x123mm | 1200mm |
| WL221059.02.90.40 | COB | 18W | 1890lm | 220~240VAC | ≥90 | White | 90° | 4000K | IP54 | >0.90 | Ø170x123mm | 1200mm |
| WL221059.04.60.40 | COB | 18W | 1890lm | 220~240VAC | ≥90 | Black | 60° | 4000K | IP54 | >0.90 | Ø170x123mm | 1200mm |
| WL221059.04.90.40 | COB | 18W | 1890lm | 220~240VAC | ≥90 | Black | 90° | 4000K | IP54 | >0.90 | Ø170x123mm | 1200mm |
| WL221059.02.60.50 | COB | 18W | 1890lm | 220~240VAC | ≥90 | White | 60° | 5000K | IP54 | >0.90 | Ø170x123mm | 1200mm |
| WL221059.02.90.50 | COB | 18W | 1890lm | 220~240VAC | ≥90 | White | 90° | 5000K | IP54 | >0.90 | Ø170x123mm | 1200mm |
| WL221059.04.60.50 | COB | 18W | 1890lm | 220~240VAC | ≥90 | Black | 60° | 5000K | IP54 | >0.90 | Ø170x123mm | 1200mm |
| WL221059.04.90.50 | COB | 18W | 1890lm | 220~240VAC | ≥90 | Black | 90° | 5000K | IP54 | >0.90 | Ø170x123mm | 1200mm |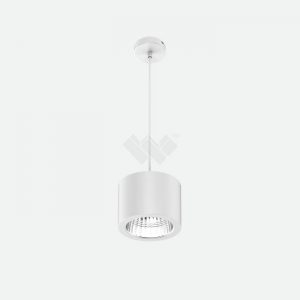 WL221060 25W Ø213
| Product Code | LED | Power | Lumen | Input | CRI | Finish | Beam_Angle | CCT | IP_Rating | PF | Dimension | Suspension |
| --- | --- | --- | --- | --- | --- | --- | --- | --- | --- | --- | --- | --- |
| WL221060.02.60.30 | COB | 25W | 2930lm | 220~240VAC | ≥90 | White | 60° | 3000K | IP54 | >0.90 | Ø213x127mm | 1200mm |
| WL221060.02.90.30 | COB | 25W | 2930lm | 220~240VAC | ≥90 | White | 90° | 3000K | IP54 | >0.90 | Ø213x127mm | 1200mm |
| WL221060.04.60.30 | COB | 25W | 2930lm | 220~240VAC | ≥90 | Black | 60° | 3000K | IP54 | >0.90 | Ø213x127mm | 1200mm |
| WL221060.04.90.30 | COB | 25W | 2930lm | 220~240VAC | ≥90 | Black | 90° | 3000K | IP54 | >0.90 | Ø213x127mm | 1200mm |
| WL221060.02.60.40 | COB | 25W | 2930lm | 220~240VAC | ≥90 | White | 60° | 4000K | IP54 | >0.90 | Ø213x127mm | 1200mm |
| WL221060.02.90.40 | COB | 25W | 2930lm | 220~240VAC | ≥90 | White | 90° | 4000K | IP54 | >0.90 | Ø213x127mm | 1200mm |
| WL221060.04.60.40 | COB | 25W | 2930lm | 220~240VAC | ≥90 | Black | 60° | 4000K | IP54 | >0.90 | Ø213x127mm | 1200mm |
| WL221060.04.90.40 | COB | 25W | 2930lm | 220~240VAC | ≥90 | Black | 90° | 4000K | IP54 | >0.90 | Ø213x127mm | 1200mm |
| WL221060.02.60.50 | COB | 25W | 2930lm | 220~240VAC | ≥90 | White | 60° | 5000K | IP54 | >0.90 | Ø213x127mm | 1200mm |
| WL221060.02.90.50 | COB | 25W | 2930lm | 220~240VAC | ≥90 | White | 90° | 5000K | IP54 | >0.90 | Ø213x127mm | 1200mm |
| WL221060.04.60.50 | COB | 25W | 2930lm | 220~240VAC | ≥90 | Black | 60° | 5000K | IP54 | >0.90 | Ø213x127mm | 1200mm |
| WL221060.04.90.50 | COB | 25W | 2930lm | 220~240VAC | ≥90 | Black | 90° | 5000K | IP54 | >0.90 | Ø213x127mm | 1200mm |